Wes-Del Community Schools will be operating on a two hour delay for Wednesday, December 16, 2020 due to poor road conditions.

Reminder - all elementary students will need to log in and complete the question for attendance each day of this E Learning period. Please contact your child's teacher for assistance. Thank you.
Wes-Del will be holding open tryouts for the Boy's Basketball Grassroots Travel League this Thursday, October 29th from 6 - 7PM. Any Wes-Del 3rd through 6th grade boy is invited to tryout. Games will be played on Sunday afternoons beginning in November and running through the end of January. Any boy not able to attend this Thursday but would like to participate should contact Coach McGlothin at
jmcglothin@wes-del.org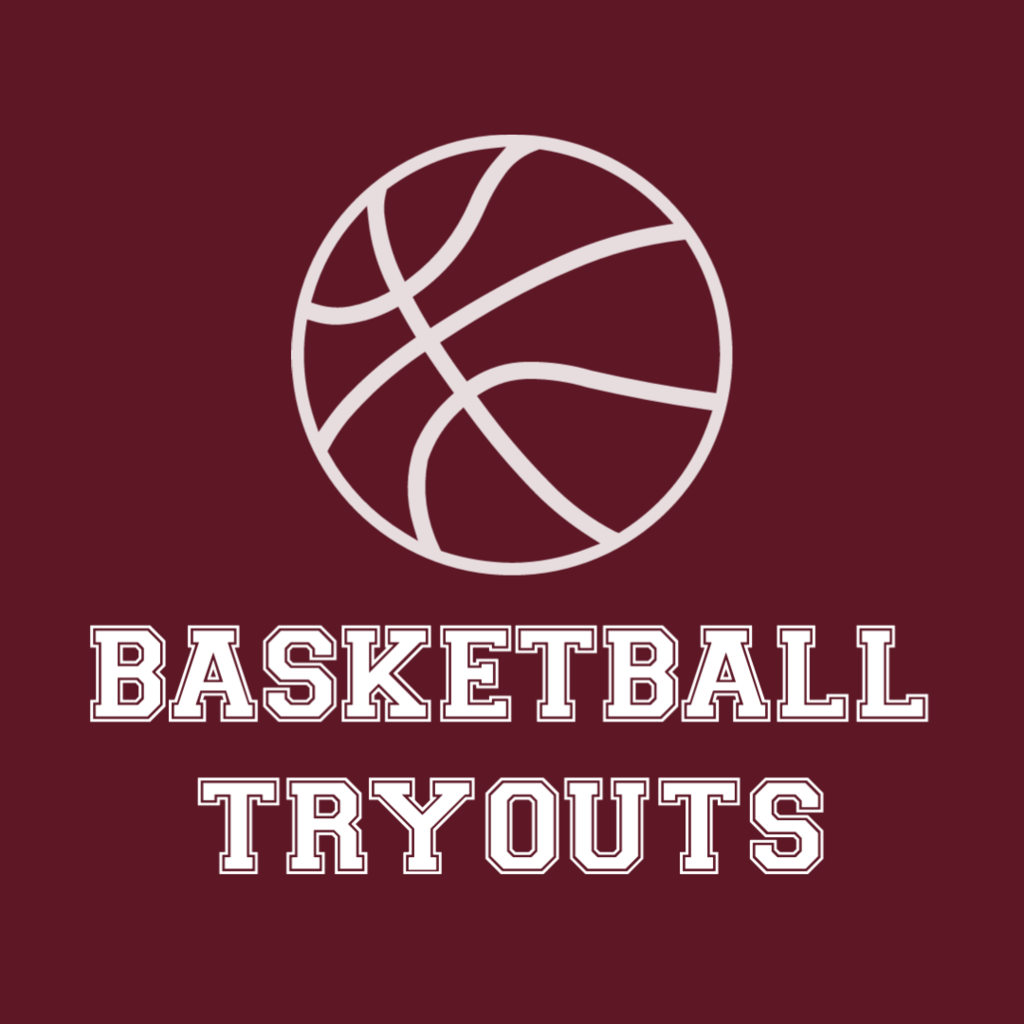 Warrior MS/HS Families: Good Afternoon! Today Q1 report cards were sent home. If you have any questions or concerns do not hesitate to reach out to your child's teacher(s). Also, tomorrow (10/23/20) is an eLearning day. Please have your child log in to Schoology in the morning to access their lessons/assignments for the day. Students can email their teachers from 9:00 a.m. to 3:00 p.m. for assistance.

MS/HS Warrior Families, We want to inform you that our 2019-2020 yearbooks are in and ready for pick-up! Students were able to pick up their yearbooks during lunch today and this process will be available tomorrow as well. Class of 2020, feel free to stop by the high school office over the next couple days and pick up your yearbook. Please call our office first before arriving. Help us spread the word! Also, you can order your 2020-2021 yearbook now. Go to
https://www.jostens.com/.../Wes-Del-Middle-High-School/
and Click on the "Yearbook" tab. Go Warriors!

MS/HS Warrior Students & Families: Here are a few reminders! *This week is the final week of the grading period. The first nine weeks wraps up Friday (10/9) - let's finish strong! *Fall Break is next week (10/12-16). Students return Monday, October 19th. This goes for our Virtual students as well. Enjoy your break! *Parent/Teacher conferences are the week of Monday, Oct. 19th. Conferences this year are virtual - teachers will contact you by phone or they will schedule a zoom. In the days ahead, please be checking your email (you have on file in Harmony) as teachers begin scheduling conferences. If you have any questions, don't hesitate to call our office. As always, thanks for your continued support!
Warrior 1st - 5th Graders! It's that time again, basketball season, and that means the Warrior Basketball Junior Pro program is ready to begin! Wes-Del girls and boys in first through fifth grade are eligible to sign up. Junior Pro will run four weeks beginning on October 31st and running through November 21st. Each week will be one hour, 8:30 am to 9:30 am. Junior Pro participants will receive instruction on fundamentals by Wes-Del high school players, as well as, play a competitive game each week. Cost of the program is $40, which includes a reversible Warrior jersey. If you have a Wes-Del student interested in participating, you may sign up by using one of the following methods: Print, complete, and turn in the following form, along with $40 to the Wes-Del Elementary office or your child's classroom.
https://5il.co/lt8c
Complete the following Google Form:
https://forms.gle/D3nhGazL6A2wfBvH7
and send $40 to the Wes-Del Elementary office or your child's classroom. If you have multiple students participating, please complete one form for each student. Thank you and GO WARRIORS!
Wes-Del Food & Nutrition Department meals are now FREE to ALL students. And to make it even better, this is retroactive to 8/12/20. Any breakfast and/or lunch that your child has purchased since 8/12/20 will be credited back to their account this afternoon. Our participation in this unique program will run through Dec. 31, 2020 or until funds are depleted. Parents if you have automatic deposits set up through MySchoolApps, you can suspend them if you so choose. We will also be offering to go meals for virtual students starting October 1. More information regarding that process will be distributed by the Food & Nutrition Department. #WDpride Mrs. Hirons, Food Service Director
Wes-Del Community Schools will operate on a two-hour delay for Thursday, September 10th, 2020 due to dense fog in our district.
The Wes-Del Middle/High School lunch menus for September. #WDpride
The Wes-Del Elementary lunch menu for September. #WDpride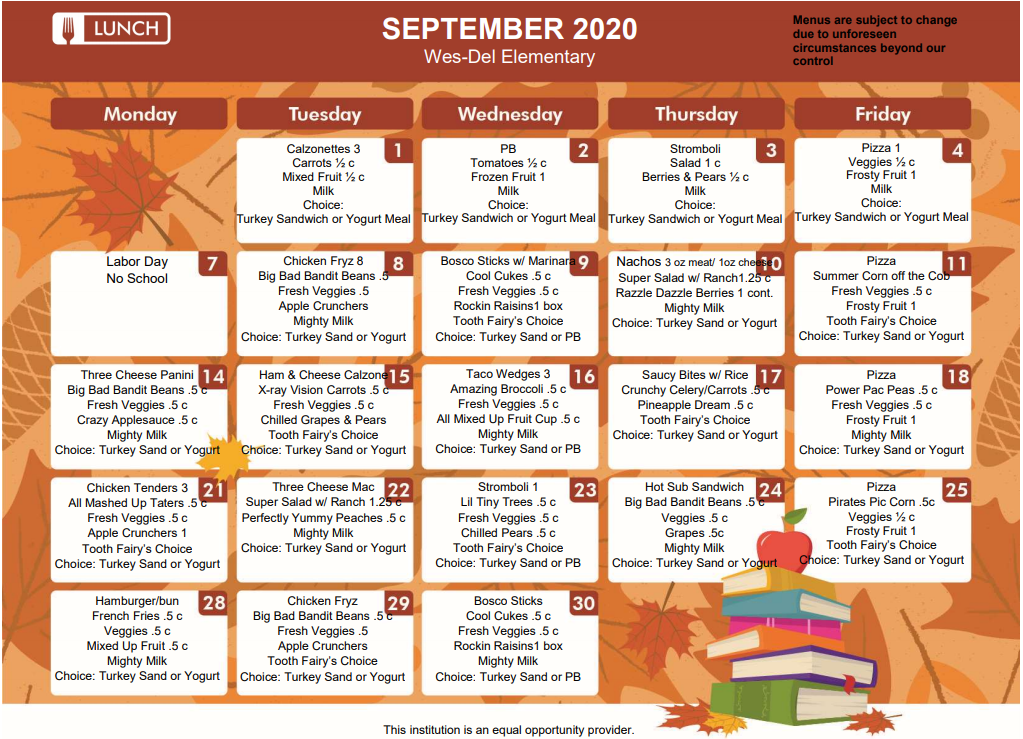 The Wes-Del Elementary breakfast menu for September. #WDpride
September Pre-School menu. #WDpride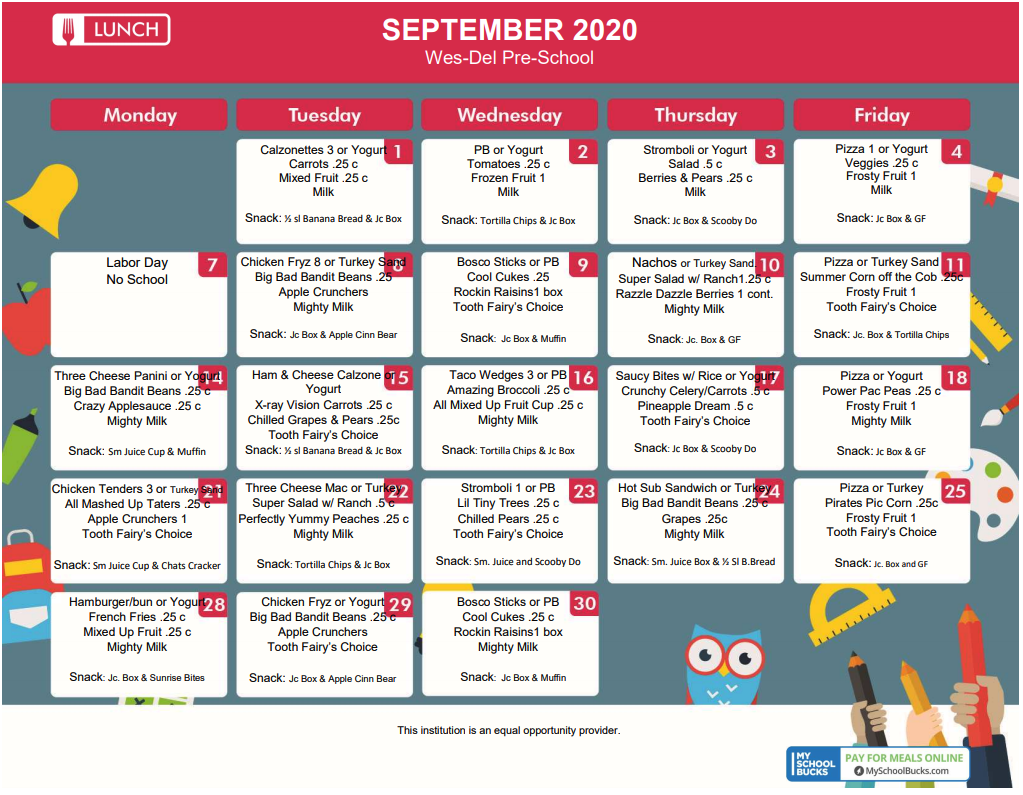 Wes-Del Community Schools eLearning day schedule for 2020-2021. #WDpride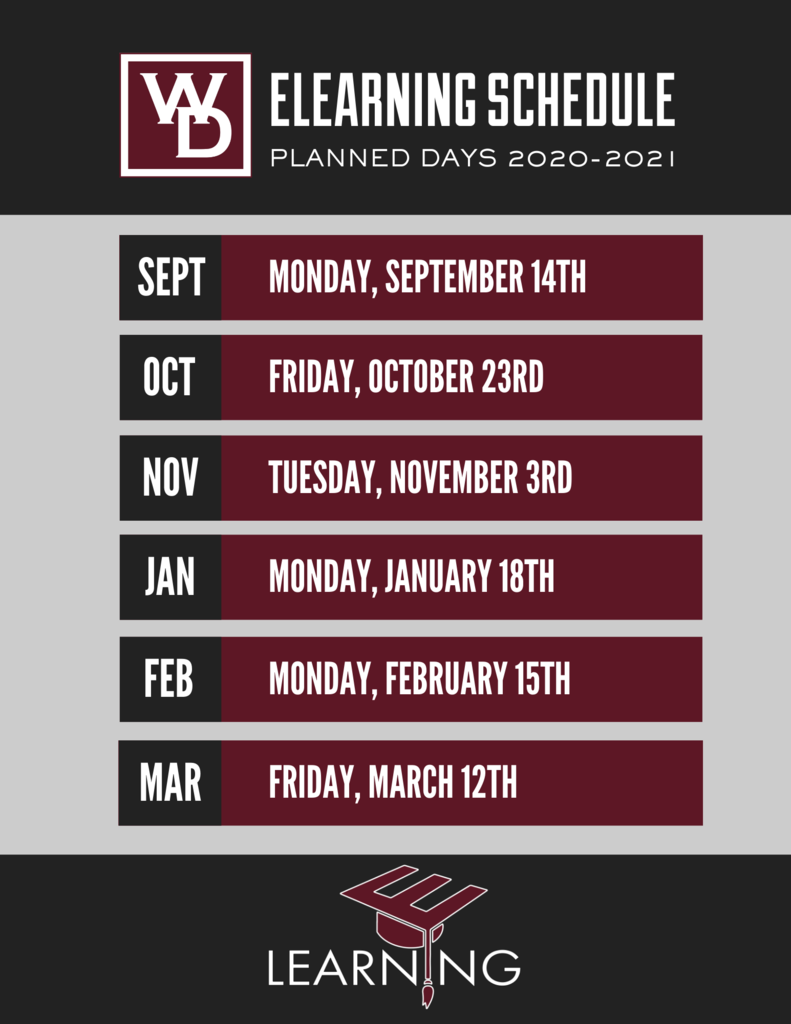 Wes-Del Breakfast Menu. #WDpride
The Wes-Del Middle/High School lunch menus for August. #WDpride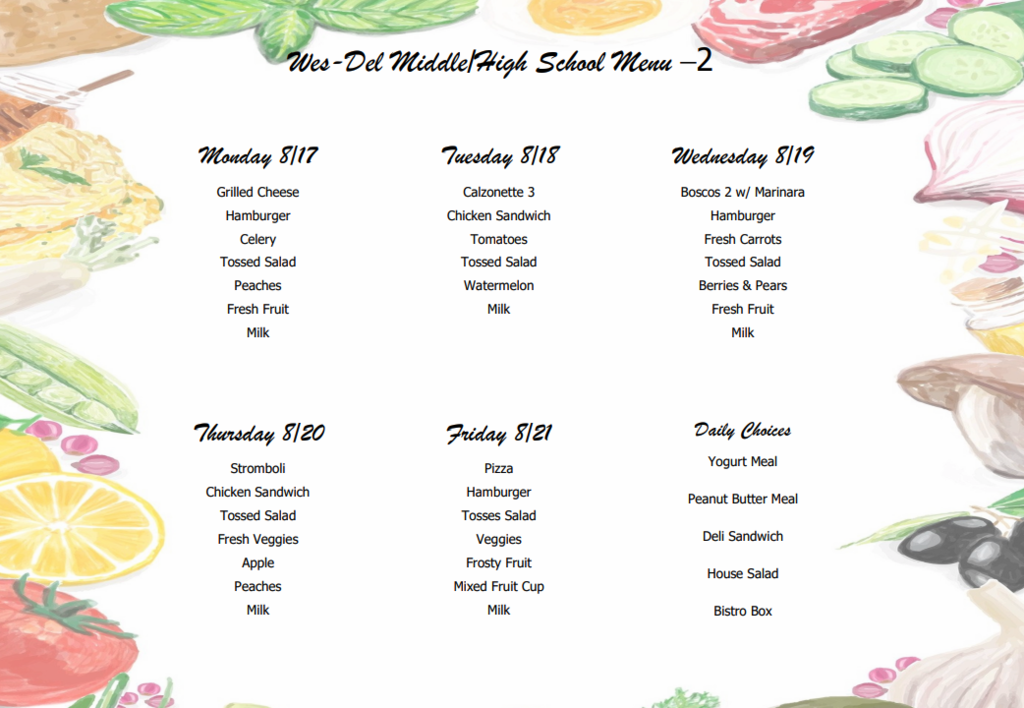 Here is the Wes-Del Elementary August lunch menu. #WDpride
New this year: Breakfast is delivered to the classroom. Please talk with your student about whether or not you'd like them to eat breakfast at school. Breakfast prices are: $1.70 for full pay and $0.30 for reduced.
Here is a look at our new "Warrior Fieldhouse" at Wes-Del Middle/High School. This is a beautiful facility for all our Warriors to use during the school day, as well as, our student athletes after school. #WDpride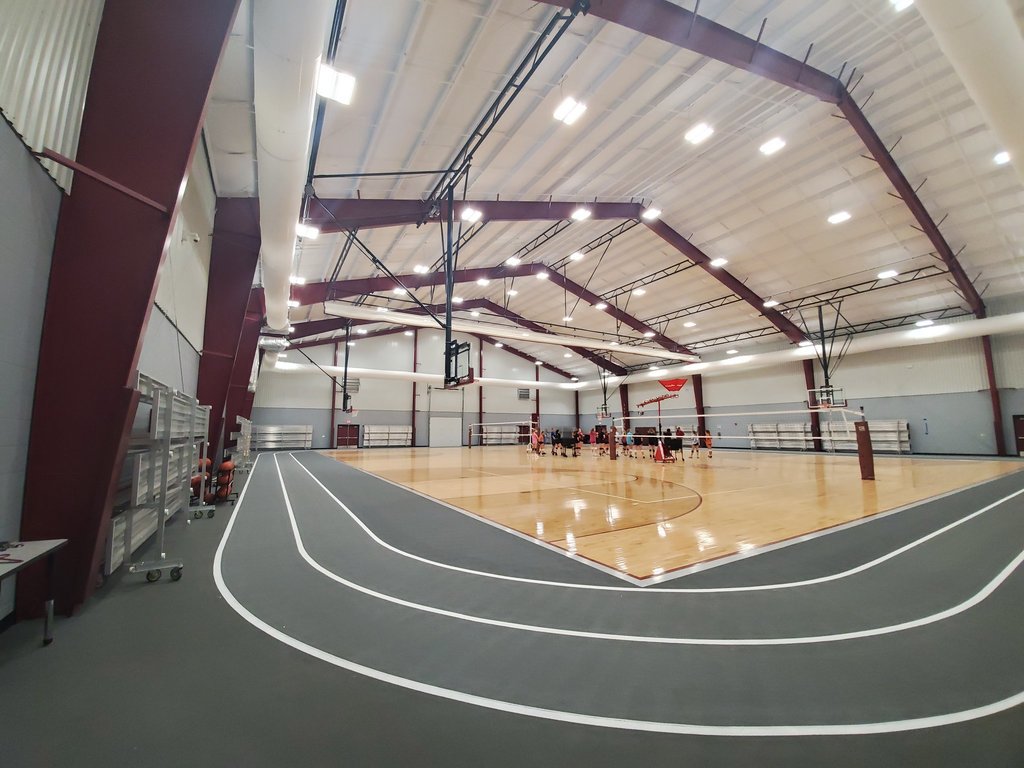 The most up-to-date "Wes-Del Reopening Plan" can be found under the COVID-19 Tab on the district website or by following this link
https://5il.co/iqjz